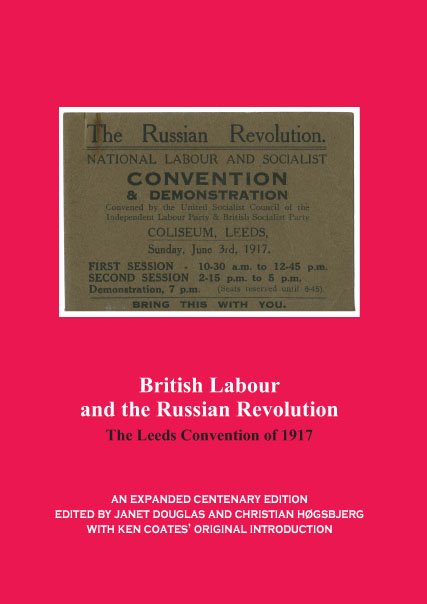 British Labour and the Russian Revolution – The Leeds Convention of 1917
An expanded centenary edition
Edited by Janet Douglas and Christian Hogsbjerg with Ken Coates' original introduction
'I got back from Leeds yesterday. It was a wonderful occasion, but a little disappointing from the point of view of practical outcomes. Snowden and MacDonald and Anderson are not the right men – they have not the sense for swift dramatic action. The right man would be Williams (of the Transport Workers), but he is not yet sufficiently prominent. Smillie is perfect except he is too old. The enthusiasm and all but unanimity were wonderful – out of 2,500, there were only about three dissentients. Nothing was lacking except leaders…'
Bertrand Russell, 5 June 1917
The Leeds Convention of 3 June 1917 has been described by Ralph Miliband as 'perhaps the most remarkable gathering of the period.' The description seems to be a fair one. On the one-hundredth anniversary of the Russian Revolution and the coming together of the many and varied strands of the British labour movement at the Leeds Convention, Spokesman is pleased to re-publish 'British Labour and the Russian Revolution' with additional materials.

Spokesman Books, 2017
Price: £8.00
Reviews
To celebrate the centenary of the Leeds Convention Janet Douglas and Christian Høgsbjerg have brought together the calling notices, reports from the convention and responses to its motions. The pamphlet allows an insight into the excitement caused by the Russian Revolution and the debates that it created inside the British working class. The pamphlet also draws on the excellent new resource that Warwick University has created with its digitalisation of many documents from the period.
Pete Jackson, Socialist Review 425 (June 2017.
There was a special event organised by the Ford-Maguire Society and Leeds TUC with the support of the Lipman-Miliband Trust on 3 June 2017 at the Swarthmore Centre in Leeds to commemorate this event – for more details please see here.